Range (Full Charge)45km
Max Speed25km/h
Motor Power250W
Max Load100kg
Weight21,7kg
---
SMART INSIDE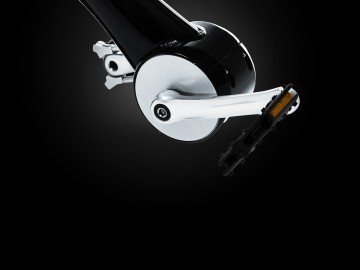 The unprecedented technology and design
Create the new way of e-mobility
The world's first chainless bike was born, thanks to Mando's state of arttechnology. Series hybrid system technology built with advancedautomotive know-how and smart technology made possible to hideparts inside the sleek frame. The Mando Footloose, as a synthesis ofinnovation, design and technology, represents a totally new approach to e-mobility.
SIMPLE OUTSIDE
Bold and sleek design
Mando Footloose's design, with its sheer elegance of technology andstructure, provides new sense of simple and freedom. This uniquedesign is stylish yet ergonomic that will remind you a smart phone with itssmart technology embedded.
STYLISH FOR ALL
Unique lifestyle choice for trendsetters
Imagine gliding along the street in a stylish way. Simply pedal on the streetand put it in the corner. The Mando Footloose represents 'the besturban mobility' and 'new lifestyle'.
MANDO, FIND INSPIRATION
As a global leader of auto parts industry, Mando has been supplying brake system,suspension system and steering system to the world market for more than 50 yearssince its establishment in 1962. Mando, in addition, is leading the cutting edge technologyin safety systems such as ABS, ESP, ECS and EPS as a tier 1 supplier of global automotivebrands like Hyundai ∙ KIA Motors, GM, Ford, BMW and Volkswagen and aiming for
Global Top 30 automotive company.
INNOVATION
THINK ABOUT TECHNOLOGY
Mando's dream of creating a vehicle that would take you "As far as you want,in the style that you want, and with only the effort that you please to make" wasa challenge which could not be solved with outdated thinking, technology and design.
As a result, the company developed the world's first Series Hybrid System that could powerthe vehicle with a built-in motor without a chain and dressed it up with the simple designof a world-class designer.
LIFESTYLE
PUT IT INTO WORDS
Mando combines the words "man" and "do" in reference to technology that empowersmankind to do whatever it wants. "Footloose" means unencumbered, carefree traveland expresses the values that Mando wanted to capture in this innovative, eco-friendly vehicle.
Mando Footloose represents the freedom of movement that mankind has always longed for and
it is a new lifestyle proposition made possible by unprecedented technology and design.