Range (Full Charge)80km
Max Speed25km/h
Motor Power500W
Max Load120kg
Weight26kg
---
Quick. Nimble. Sturdy.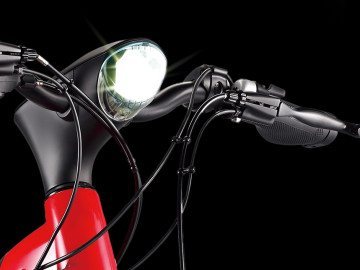 The BESV JS1 pedal-assisted electric bicycle features a strong, durable frame, for long-lasting performance. Jaguar is ideal for short rides to the park, a quick spin around the neighborhood, or even longer rides in the countryside. Equipped with our advanced proprietary Algorhythm power drive system, the JS1 delivers a smooth ride, every ride.
Advanced Frames Crafted with an Artist's Touch
Produced using the same manufacturing process as Moto GP racing motorcycles, the JS1's step-through aluminum frame provides world-class performance. The frame's design is hand-sculptured, and the use of aluminum means that this frame is lighter than traditional frames made of metal. Available in a variety of colors, the JS1's frame ensures a comfortable, enjoyable riding experience.
Power Your Ride the Smart Way
Smart Mode calculates the level of assistance you need for optimal ride comfort, taking into account both riding conditions and your pedaling power, and intelligently adjusts the power while you ride.
A New Breed of Power
Fine-tuned by our team of software experts, Algorhythm calculates the power needed by the drive system and delivers optimal performance whenever it is required.
Sleek, Stylish Integration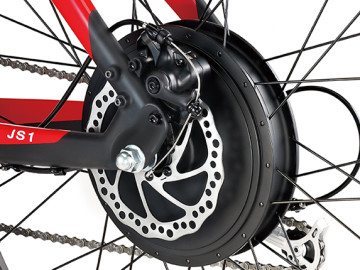 The JS1's headlight and interface are completely integrated, delivering both fashionable and functional appeal. In addition, this design has received K-MARK certification in Germany.
Bigger Is Better
BESV's large interface means information can be seen clearly and quickly, improving safety for you on your BESV e-bike, as well as the safety of other bike riders and pedestrians.
A Powerful Motor for Full-Throttle Performance
The JS1 incorporates an advanced direct motor placed on the e-bike's rear wheel. The direct motor design delivers greater efficiency, as less than 20 percent of the motor's power is lost during use, resulting in exceptional power to the rear wheel.
Charge Up Your Ride with Our Advanced Battery
The JS1 features a premium LG® battery. Highly dependable and long-lasting, the JS1's battery delivers as much as 80 kilometers of power-assistance on a full 6-hour charge.
Sporty Model Design
The JS1's dip-frame is easier to mount and dismount than a normal bike, and the design also creates a more balanced ride. The concept subverts conventional triangular frame design to make riding universally easy, no matter the rider's age, gender or clothing.
One-Step Start, and Go!
Inspired by technology from the automobile industry, the JS1 features a one-step power start-up. Simply turn the key on and you are ready to go.