Range (Full Charge)40-50km
Max Speed25km/h
Motor Power350W
Max Load120kg
Weight25,5kg
---
Galvani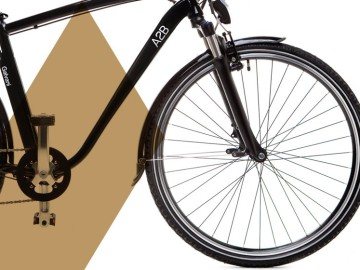 Named after Luigi Aloisio Galvani, inventor of galvanic battery cells with extended, impressive performance.
The Galvani's urban retro-style frame and larger wheels move over obstacles more easily, making it suitable for rough terrains and non sealed roads. Powered by pedal assist, this sporty, touring bike-style model is designed to look great and perform brilliantly in both urban and country environments.
Sport
The electric bike's answer to a touring bike, the Galvani opens up an almost inconceivably wide range of journey choices. Designed to perform on nearly every type of terrain, the Galvani is just as happy (and looks just as good) gliding down a smart city street as it does burning up gravel roads.
Performance
The Galvani's retro Dutch design encourages a more impressive rider performance, and therefore offers a greater range. The perfect partner as you explore even longer and more exciting new journeys, the Galvani has a maximum speed of 32km/h (20mph) and a range of up to 64km (40 miles)*.
* Dependant on power setting, rider and riding conditions.