Range (Full Charge)50-60km
Max Speed30-40km/h
Motor Power500W
Max Load140kg
Weight30kg
---
Ferber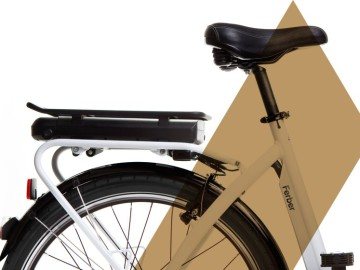 Named after Ferdinand Ferber, a pivotal contributor to aviation development in Europe.
Designed with a more traditional sensibility, the Ferber combines faster, more responsive manoeuvrability with wider, 26" wheels for a more upright and comfortable ride. This thoughtfully designed model offers all the advantages of a conventional bike, with the reassurance of power when you need it.
Response
With its convenient luggage rack and relaxed upright sitting position, the Ferber was designed with a deliberately traditional feel. Taking its cues from conventional bikes, this reassuringly responsive model allows you to relax and enjoy your surroundings with comfort and ease – but considerably less effort.
Manoeuvrability
The Ferber's 26" wheels offer faster manoeuvrability and improved response to fast direction changes.
It also responds well to angular direction change. With a maximum speed of 32km/h (20mph) and a range of up to 64km (40 miles)*, the Ferber meets the need of a range of lifestyles and opens up a world of new possibilities.
* Dependant on power setting, rider and riding conditions.