In contrast to its competition among premium automotive brands, Lexus did not have an all-electric vehicle in its lineup for a long time. Though, recently Lexus announced their plans of electrification and last week unveiled the first step of this plan — small SUV UX 300e.
⠀
Lexus' first mass-production EV has one motor located in the front. The power unit has about 300 Nm of torque. AWD versions are not yet announced.
⠀
UX 300e has quite tiny battery pack with 54.3 kWh. Though, Lexus claims the 400 km range, probably resulted by good aerodynamics and UX's low weight. 300e can be charged via DC stations with up to 50 kW power.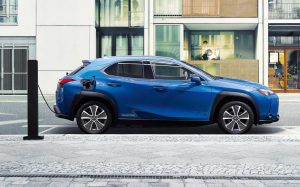 Lexus UX 300e will enter European and Chinese markets first — its debut is scheduled on 2020, then leading to a Japanese market in early 2021.